THE TIME HAS COME
February 25, 2011
In silence I wait for the man with the staff,
to open hell's gates on my mournful behalf.
So long and farewell to my treasures on Earth:
my withering trinkets
my home and my birth.
Under the mantel the fire grows dim.
The clock stops it's ticking in waiting for him.
A blind gust of air sings songs of the gallows,
Souls of dead men with passion filled howls.
How violently shakes the glass of old rum
that's perched on the table
The time has come.
My hands wringed around the fabric of death,
unravel life's threads till thin strings are left.
A phantom of black and blinding light,
floats up upon air as he breaks through the night.
What is his song?
He sings of now sun.
He speaks of long bondage
in tune of low hums.
Of no surprise my ringing ears bleed,
with songs of the phantom as he kindly proceeds.
His hand reaches out
bony white snow
skeleton fingers
with nowhere else to go.
Of all passed time my hearts found its mate.
It's found its final resting .
One step through hell's gate.
Across the room
A vision unwinds
Or maybe a mirage
A trick of the mind.
Pointed and rusted stood the gray entrance
to take one more soul from an earthly existence.
A cold silent hand against my weak shoulder
cooing my fears, yet making me older.
My skin becomes wrinkled
slow moving and numb,
melting off my bones,
The time has come.
I burry all hope of staying abroad,
being swept by the tide like a purposeless cod.
But alas! I must plummet afar
as a spiritless soul
into the banks of hell
and horrors untold.
A fiery lake
as a prisoner's cell
trapped longer than life
to hear songs of the gail.
I knew once I heard
my judgment in heaven
and was sent to Earth
for these 13 seconds
that life had more meaning
than one could ever sum,
but once again it's too late
The time has come.
Pushed into the center of a spiraling abyss,
my limbs flailing wildly
my eyes blind with mist.
I reach out my hands for something to cling
my nails scraping air
I fly without wings!
I hit the ground hard
With a turbulent thump
and out went my useless soul
a shinning white lump.
And down went my heart
like the sound of a drum,
and once again I know
The time has come.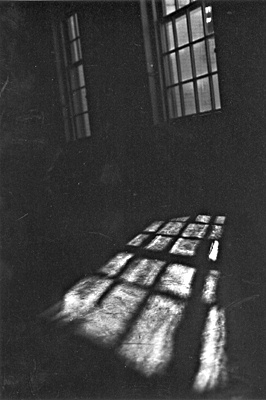 © Mary A., Fullerton, CA