Winds of Winter
February 23, 2011
Winds of winter where the snow falls,
Blow the chill and it screams and calls,
Any fool to meet and take it on.

I like good little scared peon,
Stay in home and hide in my bed,
And gather a few books I have read.

Time passes and passes me by,
I start to wish that I could fly,
Away from this mighty winter storm.

Skies now darken and the first day goes,
The mood seems to be an all time low,
I sleep that the storm will be away.

Regardless of what I seem to say,
This storm will not go or let me be,
My food dwindles and snow is far as I see.

Seven day have risen and fallen,
I now wish for my spring fever and pollen,
Power is gone and room slowly chills.

I thought there was freedom in this,
But now I see in this the devils kiss,
With my home once good now it is bad.

The short term joy that make many glad,
Is now destroying my heat and home,
The snow is now a self destructive dome.

Too many days have come and gone now,
I have no more chicken or cow,
The shirts don't taste so horrible after a while.

Now this stupid snow will so beguile,
In this house starved, cold and insane,
I now refuse to stay inside and refrain.

THE shovel and door I grab and yank,
That snow comes in so foul and rank,
Like a mad man now I clear and shovel.

My house now a snowed in hovel,
Groans and creaks as it will watch,
Almost expecting me to botch.
It matters not to me what it does,
Or that my vision has a little fuzz,
I refuse to stay in that prison any longer.

The house screams that I am a goner,
The tree outside holds much snow,
I don't hear it over winds that blow.

The winds now go one final moment of unrest,
It now put me to the final brutal test,
As white hell once stable now finally shall fall.

I really think it has guts and gall,
For it to straight down it does fly,
And that is how I sadly and quietly die.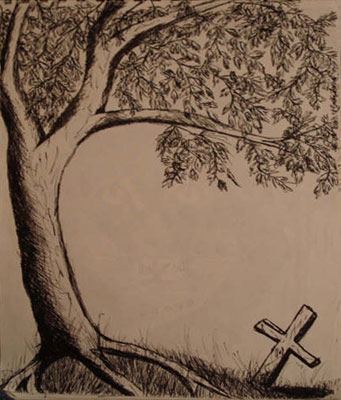 © Courtney K., Bethel Park, PA