Where I'm from
February 10, 2011
I am from Teddy bears, from colored pencils and hot coffee.
I am from the fresh paint on the backyard deck , and the smell of warm banana bread.

I am from the white daisies in my window, and the fir tree, whose limbs I remember as if they were my own.

I am from taco Tuesdays and smiling faces.
I'm from Laura and Jason.
I am from messy hair, cluttered spaces, and silly faces.

I'm from 'say please' and 'eat your vegetables'.
I'm from Return to pooh corner and the little mermaid.
I'm from Aaron Carter and Hillary Duff blasting from my speakers.

I'm from Seattle, and Norway and France.
I am from Family game night and holiday get- togethers.

I am from Terri's blackberry cobbler, and aunties "special bread".
I am from my mom and dad's stories of when they were children of playing in he woods behind the house, and their first times driving.

I am from he beach house, the smell of campfires at fort Ebey.
I am from swimming to 'duck island' at green lake, and the familiar taste of foods from the Sunday market.

I am from our black and white photo albums tucked away in my hope chest, and the stuffed dog that was once my dad's.
I am from the baby blanket I got the day I was born, the one I still take out when I'm feeling lonely.

I am from Kenny Loggins, and goodnight my angel.
From Dream catchers, and cinnamon scented candles.
I am from the green earrings that my grandmother never took off.

I am from countless summers spend camping in the backyard with my siblings, and eating fudgesicles by the pool.

I am from standing up for myself, and never backing down on what you believe.
I am from expressing myself on paper, true feelings out of ink and led.
I am from seeing the world from the camera's lens.

I m from my country, my culture, my friends, and my family.
I am from new beginnings and happy endings.
I'm from everything and everyone who has made me the person I am today, and that is something that I never want to change.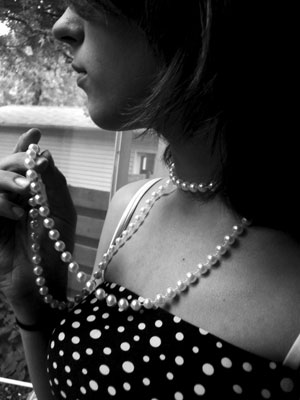 © Elaina V., Canton, OH