Just Me and My Kite
February 6, 2011
And seeing Sara standing silent so
Saddened, morose, broken like an old kite,
That once in its glory flew so high, no
Worries in its little kite head, no fight.

Internal dialouge cut off by the
Sound of air rushing by as it so grew!
Up, up, up and away, finally free.
If only, only, that little kite knew!

But alas! up and up she flew, naïve
Just her, the string, and the wide open sky.
Until, malicious, playing God a child
Decided that kite deserved to freely fly .

That child! Why must you get in between! I said I was sorry!

And snip, snip, snip life unravels fast
When the wind picks up and the storm begins
And the kite wondered if its beams would last
Wondered if this was finally the end.

Let it be! The little kite thought as she
Let the wind carry, and arms opened wide
Flew farther and farther away from me
And she flew straight through to the other side

But that tree! Oh she's broken and she won't let me reach!

And now, distant, stuck in that tree she cries
And I try, and try, but I cannot reach
She cries, and cries, ignoring all my tries
And so I sit so lonely on that beach

And that child playing God distanced my friend
And I from each others helping hand so
Though stuck in that tree this isn't the end
I refuse to let it be, I just know

Seeing Sara stand silent in that tree
I can grab that ladder and climb to her
Maybe once I reach those branches, free!
She will let me once again befriend her.

Just me and my kite who just wanted us to see! I am so sorry!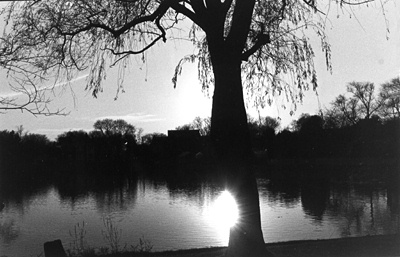 © Chuck K., Marblehead, MA