Frostbite -- Shadow poem of "Scary Movies"
December 16, 2010
Tonight the shadows are horrifying,
And I keep expecting some hideous
Frozen snowmen
To inhibit the dark playground,

To come waddling over the gravel
And drag me from the fence
To the musty lair that appeared
In my recent dreams one Thursday

At the gorgeous hotel where I slumbered defenseless
Next to my two closest friends, exhausted from
Too much soda and laughing – that lair,
The bits of carrots and coal

Interchanged and stored on the walls,
I can imagine their parts put into
The salad from lunch. This
Is how I finally lost it—

Not willpower, I mean, but that thing
That helps you choose what to do in your day
And actually follow through
On those days when it seems like snow faeries

In their suits of human disguise
Are walking their "dogs"
And "strollers" through your neighborhood.
I think of my goldfish swimming

In her round bowl –
Blup blup blup –
The minute before her death,
The algae still growing

And the sunlight shining through,
And I feel as empty as I was
After all those late-night strolls
When I'd zip up my jacket and shiver,

For minutes, in my pajamas,
Unable to continue
Even to return home, because the cold
Had gotten to my nose and ears;

If I dared remove my scarf
Or my gloves in the frigid January night
The frost would capture me and hold
Me forever. And my husband said it wasn't

Cold enough, when it was February,
I wouldn't have to worry, but now
He's asleep, and I'm freezing,
And it's still January.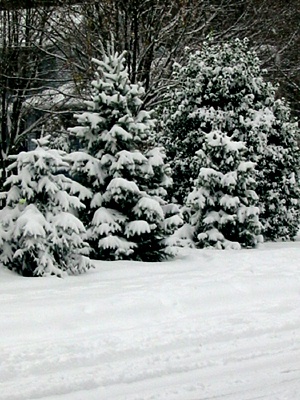 © Kristen S.,Sewell, NJ