The Sirens Inspired Sestina
January 3, 2011
An ocean-bound ship is about to make for the sea.
Laden with anxious soldiers and nervous young sailors,
Waving good-bye to their wives
For the first time. The sky
Casts a golden hue upon everything, but the deep billowing of white linen sails
And darkening skies are telltale signs of a coming storm.

Constantly vigilant for the impending storm
Are the sailors' worried wives.
They talk among themselves, speaking of the immense ship and the blowing sails,
But thinking of nothing other than the dangers of the sea.
Though worried about the possible fate of the sailors
The wives will let their husbands sail off into the massive world of sea and sky.

A woman with robes the color of the stormy sky
Steps forward to play a golden lyre to calm the sailors
And bring peace to the heavy hearts of the wives.
The soft notes gush from her lyre like rain in a storm
And the constant smell of salty brine coming from the sea
Is forgotten. And then it is time to set sail.

The wind starts and the cold air runs through the sails.
The massive ovean boat begins to make for the sea
And the inevitable storm.
With one farewell, the young wives
Begin to wave good-by. There husbands, the sailors,
Begin to work. Now they must trust the sea and can do nothing but watch the sky.

The sailors begin to notice the stormy skies
And wave, possibly for the last time, to their wives.
They are ready to embrace the sea
And the perils that come with it. Everyone notices the blowing sails
And nothing can be done to stop the storm. This is understood by all the sailors.

So now, with not a good-bye remaining, the sailors
Crowd the deck, standing under the darkening sails,
And stare one last time on the faces of their wives.
They are ready for a storm
And whatever other misfortune may come from the sky.
They finally begin to head for the wide open sea.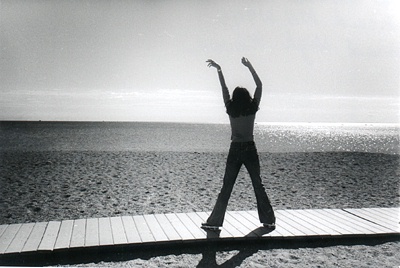 © Colleen F., Marblehead, MA