Broken Doll
December 26, 2010
A china doll sat across from me,
She looked very sad, very broken down,
I wondered what ever had made her look so sad,
I got up and sat next to her,
She looked at me; tilted her head and turned to look straight again.

A china doll sat across from me,
Tears ran down her eyes but she wouldn't look away; just kept staring straight ahead,
I asked her what was wrong,
Her lips moved,
But no words came out.

A china doll sat across from me,
She wore an elegant black dress,
White frills stitched on the bottom,
A hat sat on top of her head, more to the side than the middle.
Black gloves covered her hands,
Like vines covering really old buildings.
Expressionless…

Thunder roared outside,
Rain pattered the windows and roof,
I got up and started walking toward the small figure,
Bearing the silence no longer,
Suddenly the window tattered open and the breeze blew in ,
I kept walking towards her,
towards the sad, cute little doll,
her expression didn't change at all; she kept looking straight, emotionless, expressionless.
The wind my hair from left to right; my white dress swayed to the same rhythm.

As I approached the doll she turned her head to look at me,
Her glistening eyes filled with tears,
They shone in the dim light of the candle,
As I stared into her ghostly gray eyes I saw a tiny scared doll, filled with anger, hate, and a shattered heart.

I stood two feet away from her when her she stood on her tiny little legs and opened her arms towards me,
I hesitated for a while,
Her tiny little arms still hung open,
Wind slithered through the room brining in cold silence.
I took a step forward and hugged her.

As I put my arms around her she turned to glass and broke.
I looked to my feet and saw glittering pieces of glass scattered all over the floor,
A tear ran down my eye.
A china doll that sat across from me; now a broken doll…….
The sad, expressionless broken doll.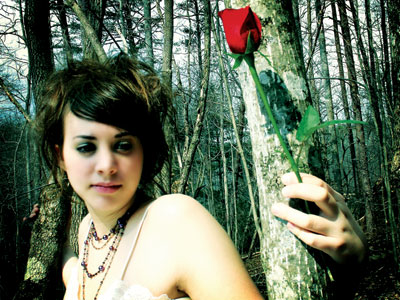 © Michelle B., Blairsville, GA