Watch it Rain
December 16, 2010
The horizon has given to the sound behind our backs

A thunder slow rolling, with deep echoes in lapse.

Over our heads, in the bottom of our hearts

We feel this coming, but it's only the start.

It's surrounded in me, confounded by you.

This limitless feeling, as the skies are blue.

Clouds provide ceiling.

Stunned in a Beautiful view.

Together stood still, the air brings its changes

The rain that could fulfill, a heart full of wishes.

Lightning will notion to the sound of my lips

I look over to you and with my hands on your hips.

And wait for reply, time lost in your eyes.

Time unnoticed by you, this rain has come on too.

In the pouring rain, met the softest stare, with a soul to tame.

You were standing there, when you spoke my name

It left me stunned, in search of my voice

until I noticed at last, that you had made your choice.

Extended hands, in a motion to flee

In the pouring rain, we could hardly see

But we followed our hearts

And listened to their beating

A song to these thoughts

that have searched for everything to believe in.

Streaming from our hair, and dancing through the skin

Tracing every vein, with a new path to begin.

The clouds of our past, are never what the seem.

Storms hold disaster, but rain will cleanse clean.

As I'm lost in your laughter, and deep within your eyes

We notice that together, the clouds say their goodbyes.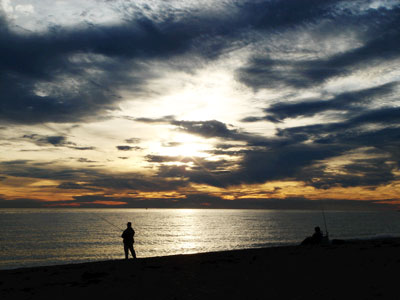 © Sarah C., Hillsdale, NJ