The Pack/ The System
December 13, 2010
"Ready or not here I come"
They want you because you want to be different
Because you go against the system and the pack.
You just wanting to be yourself and find freedom
But no. they have plans for people like you.
You find that out as soon as your caught
They want to make you into a machine and become like them
Left, right, left, right, it's all a dull sound ringing in your head.
They have you set up to be like everyone else.
You see, society is a contraption, it needs people to function
But they don't need anyone like you.
The only thing you are to them is a dash of glue
They want you to keep the cogs moving
Nothing more, nothing less
"You see, your kind are too full of spirit and youth,
We don't need artists, we need doctors and lawyers
We don't want anymore musicians, unless of course you like the classics"
Sneers the public,
"We need A's out of you. Sign up for the clubs at least
Comb your hair and part it to the left,
Oh yes, I also see that your jeans are too tight
And what is wrong with your shoes? Why can't you kids ever tie them right!"
Says the school,
"My dear boy, god has a plan for you.
And it doesn't involve piercings and tattoos!
Your hair is too long, and your belt is of the wrong kind!
Your shirt represents the devil and why are you always dressed in black?"
Yells the church with a smack,
You simply reply to all three,
"I have too pee"
And to that they all scream and shout
"You evil little lout!"
You just look at them and smile your crooked grin
But inside you know that in time you will become one of them.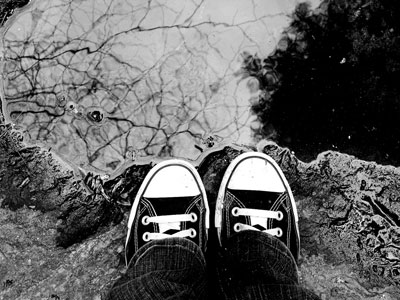 © Michelle B., Blairsville, GA