Dignity dead.
December 12, 2010
I'm lying on the ground, weak and scared,
People are walking right past me, they don't seem to care,
I get up and stumble, but I fall again and again
As the three me pick us up, with cruel dirty grins
They take us in the house and examine our breast
Closely, there eyes start to roam up and down our chest,
Tears slipping from my eyes, they land silently on the floor,
I'm dressed in a see through robe, I feel like a whore.
The men come down the stair and immediately tell us to strip
I cry and cry as his dirty hands run down my hips
I beg please, but he slaps me in the face,
I stumble back sobbing, and I slowly pull off the string of lace
The robe slipping off, he stare; I cry; ashamed and hurt,
He then pulls me roughly up the stairs and he tears off his shirt
I scream and scream blinded by my tears
I cry for help, but no one hears
He tells me to shut up, and pushed me on the bed
I feel so broken, my dignity is dead
He rips off his pants, and plunges himself into me deep
My mouth gapes in horror, as I scream and weep
My dignity lost, my life has now fell apart
My chest is now exposed as if someone pulled out my heart
I quickly push myself off of him, and I grab my robe and try to flee
But he punches me in the face and strangles me,
Shaking me, his hands grasp tightly around my neck so strong and tight
I try to break free so I scream with all my might,
He pulls out the gun and my eyes get wide with pain
As the bullet scorches inside me, I drop to my knees, my blood starting to drain.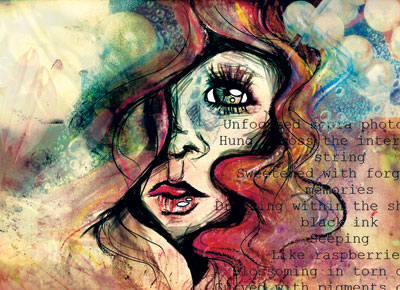 © Victor K., Las Vegas, NV