The Cape
December 7, 2010
I sit at this quite lonely desk
a single one among the rest.
I study just an old photo
I reminisce and try to notice her.

To see the Cape, that perfect place,
she walks along the shore and waves.
A cloudy sky that falls into the sea.
Slowly behind, two little dogs follow.

A loyal pet is man's best friend.
A leash connects the two as one.
The two black dogs they have such love
and jovial creatures they are.

Without a worry in her eye
Nor me in her wandering mind,
she looks back at them blissfully
carefree and smiling all the while.

The bond between them is so strong;
it seems she loves them more than me.
That cheerful photograph I see means more to me than meant to be.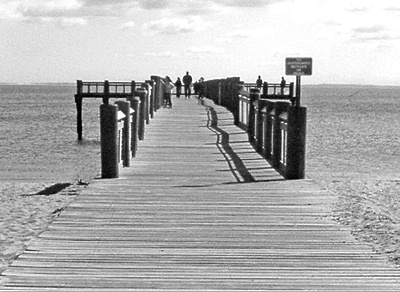 © Kevin F., Milford, CT