Identity
December 3, 2010
Have you ever pulled a string until it snapped?
Have you ever run over a deer and split it in half?
Have you ever screamed so loud your throat bled?
Have you ever wished someone to be dead?
Have you ever seen the inside of a man?
Have you ever cut someone short of their life-span?
Inside I'm numb; you could say I'm feeling dumb.
My mind's really gone and I don't know what's wrong.
Try to clear my mind and I come to a body I find.
He's scratching at the door while sprawled out on the floor, screaming, "No more!"
I adore his persistance but with much resistance I'll come to his assistance.
Helping him out with his death; still sceaming out, give it a rest. Hun, I'm the best.
No need for the hollering, it's only me you're bothering, want me to do some conjuring?
I'm not into that spirit stuff,
but maybe you believe enough for the both of us.
Just then he collapses to his knees, looking up to the sky like he has an incurable disease.
Scared for his life, but it's ending tonight,
so I say, "No, you're not going to be alright."
Then he starts to fight,
looks like he's going to bite,
so I kick him in the face to put him in his place.
I wear the pants in this relationship, so his pants I start to snip.
Going towards his face, I bite off his lip.
There's blood draining down his neck onto the deck while he's looking like a wreck.
Everything goes black.
Woke up on a stack of body parts in a little shack.
I open up the door a crack; anything look familiar?
I decide to backtrack.
I pick up the arm off my lap; a good weapon if someone decides to attack.
I'm so nervous that I chew on the fingernails, all the while trying to piece together details.
I see a man and an axe; wonder what happened with that?
Was I in some combat?
So drenched in blood that I'm looking like a sewer rat.
I guess I'll just head home and evaluate my dome.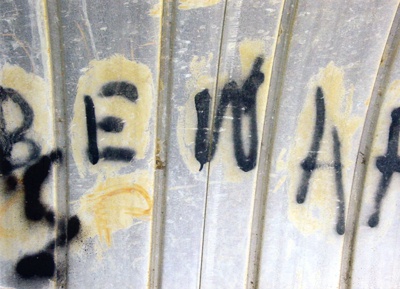 © Chris P., Highland Village, TX