Black and White Lake
November 1, 2010
I walk by a lake
And it's a very high stake.
I look across the water and I see my family and friends
And everything depends.
They yell "You're going to either sink or swim so get on with it!"
It's a scary thought so I wait and sit.
As I deliberate
People swim by at a fast rate,
Some get there, ten out of ten,
But some never make it out of that cold wet pen.
As I look at the water it is all I can see,
And it frightens me!
I don't want to jump and see if my limbs can carry me all the way there.
Then I realize "Why do I care?"
As I look around things turn back and white
And I just might,
Not go at all
Not have to worry about the fall.
I want something more,
This place is such a bore.
My family and friends yell and screech
But I plant my feet firmly on the beach.
I throw my hands up and yell "I'm going to fly!"
They say "You can't fly you're merely you. You can't fly like the birds in the sky!"
But I jump in the air
And feel the wind in my hair.
I prove them all wrong by flying higher,
They can never call me a liar!
While everything down there is black and white,
I take flight,
To a place that's so colorful
I can't take it all in, it's wonderful!
I touch a tree top and stop to chat with a crow,
To find out the amazing things he might know.
I keep going till I'm inside a cloud,
And I am so proud.
This is me threw and threw,
This is me and this is true,
I don't think I'll ever go down
Because I don't want to replace this smile with a frown.
As I see what a blue bird might
I give my family and friends a fright
But as I wave to them happily
I hope they see
This is the real me
And it's who I have to be!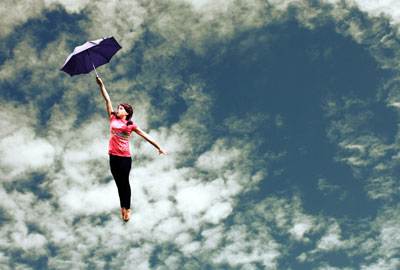 © Sandy H., Woodbridge, CT