Scared to Death
October 20, 2010
My name is cindy and I am seven years old. They keep me up here where its really really cold.I have siblings, many I do,I just go
aroung cleaning there shoes. I'm more like a maid, and I don't get to play. this is just another average day. I get scraps for food and little to nor water, they say im always rude and a bother. my clothes are rags and my blankets are bags. I have an old cot where
I sleep, and dream very deep. I have a diary that i keep. its very neat as I should say since no one really lets me play. I sit in my room all day and all night, hoping my mom wont start a fight. I get really upset and hope to die, sometimes I even do intend to try. but then I think, I can win at this
game and then it hits me everyone just thinks im lame. I hear from the floor the footsteps of mother,I get scared and dive into cover. I know she'll hit me and it really hurts I just need someone to get me outta this misery blurt.
I dont hate her but you may think so I only wish you cauld know. maybe I deserve it getting treated this bad I know she doesnt mean to get mad. I think to myself should I just end it here and think to myself maybe its better off up
there. I get this piece of glass that I had from when my mother got sad. she threw it at me when I was alive, maybe she really wants me to die. I grabbed the glass and stuck it in my heart
hopefully we'll never be apart. I hope I see mother up there for I know she will never make me
scared ever again, so I ask one more time let this story be spread.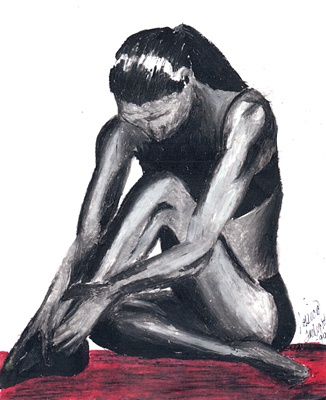 © Jessie Y., Ahwahnee, CA