When the Stars Fall in June
October 7, 2010
Waking up from misdirection,
Which is at the crack of dawn,
I let down my last protection,
And check for green grass on the lawn.

And I cease to know,
How the fruits still grow on trees,
Once their memories go,
I guess it sets their eyes at ease.

There's a new brand of coffee,
It's sitting in the trash,
In the empty vase sits a poppy,
Within it's stem there's a gash.

And I'm still waiting for their call to come,
The paper in my hand dates back to '92,
In the other lies a plump plum,
And I'm saving it for you.

I watch the rigidity in my stance,
How it used to go northward,
How it used to entrance,
And I know it sounds absurd.

I wish now, that I could just sit back in my chair,
And wonder at the reflection in the mirror,
And that I wouldn't wish for you... to be there,
But it only makes it clearer...

I hope the stars fall in June,
You'll be gone,
And I'll be in tune,
All I'll swim like the swan.

When the stars fall in June.
And I'll be in tune.

Ghosts haunt my smile,
And ghouls ate my heart,
But I ran the mile,
And now can restart.

Sitting up, I feel the pressure of the air,
And too soon it's grown dark,
I look out my door, you once stood there,
With you're singing stupid lark.

How I miss it all,
The sweet and faded sunlight,
And how my mind grew so tall,
And how I used to dream of flight,

The pond beside the swing,
Is murky now and cold,
Even in the spring,
But it still loves the stories I've told.

I put on the shoes I once wore to dance,
And think, just once more,
Of how I missed my last chance,
Which was what I was there for.

Strings are untied, or broken in two,
The mud seeps to my feet, and sticks to my toes,
And the grass never grew,
And here goes.

I hope the stars fall in tune,
And I hope I'll learn,
And I'll fall in June,
And I hope the coals burn.

When the stars fall in June.
And I'll be there soon.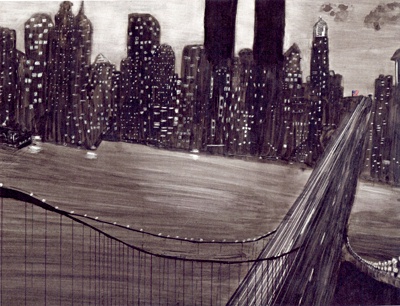 © Breanna Lea B., Richmond, VA