Beauty
September 21, 2010
Judge a girl by the mounds on her chest,
by the curve of her spine,
by the silk of her skin,
by her hair's shine.
Stare at her hips,
gawk at her thighs,
act as though she's only a feast for your eyes.
Let your gaze travel over every inch of her body,
and then, when you finally like what you see,
call her beautiful.
And if this is how you determine beauty, then you are a fool.
Because beauty is not found in the vessel,
but it is found in what that vessel contains.
The most beautiful shell in the world could break,
and then you would have nothing.
But if you would look at an ordinary oyster,
you would find in her the most beautiful pearl,
a treasure that you've always ignored.
Beauty can be found everywhere, if only you take the time to look.
It is in she who finds a reason to laugh, when life gives her a thousand reasons to cry.
It is in the girl who can rise from the depths of despair.
It is in she who dances in the rain.
It is in the girl who speaks her mind.
It is in she who goes against the grain.
It is everywhere.
And if you choose to ignore all of this beauty,
and focus on that which only meets your eyes,
then you are a fool.
A fool who will never know what beauty truly is.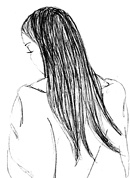 © Miranda B., Neosho, MO