Find My Wings
September 8, 2010
Where did they go?
They were there last I checked.
Of course, that was before him
Before my heart was wrecked.
Maybe if I arch my back
And tilt my head to the sky
And roll my shoulders loose again
And spread my arms out wide
I might find my wings once more
They've disappeared, you see.
Try as I might to find them,
They have eluded me.
It's strange to miss something so important
Such an essential part of myself.
Where that valuable treasure once sat
There is naught but dust on a shelf.
I'm so scared I have lost them.
What if they don't return?
What if I never soar again.
What if I never learn?
Quitting this search sounds lovely.
Stop swimming, and you sink.
I crave an easier path than this,
Toeing despair's sharp brink.
But giving up means letting go
Of that slim and distant chance.
That I'll wake up with feathers again
And into the sky I'll dance.
Yes, this lonely and unkempt path
Trodden by weary feet
Will end in paradise on earth
When my true love I finally meet.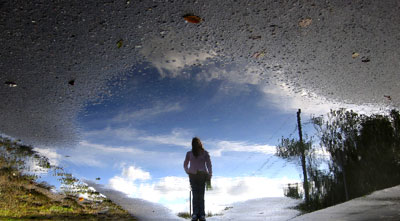 © Daniel H., Oak Bluffs, MA