Be Free
August 30, 2010
We are afraid to show who we are
We are afraid to follow our plan
We hide though we are stars
We should be all we can

We can't seem to escape
This trap of hiding what we are
But it is our life to shape!
And we can take it far!

I say we let ourselves be free!
I say we let ourselves show
Just who we are meant to be!
Then we can face any foe!

Come on everyone!
Change your thinking!
Go out and live your life with fun
Stop all this faking!

Live your life in freedom and fun
For one day it will be done
Throw off opinions that seem to weigh a ton
In the end the only opinion that matters is one

That opinion is yours my friend!
Think of who you wish to be
Never let the good times end
For only you allow yourself to be free.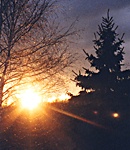 © Christy S., Germantown, NY