On That day
July 28, 2010
Oh I can't wait until that day,
When Jesus steps out onto the cloud,
And calls our souls away.
My eyes tremble in anticipation of that glorious time.
When I can leave this world of sin,
And tell this place a final goodbye.
My heart is just about to burst, with the excitement it now feels.
I believe it would break free from my chest,
If it didn't have such a purpose to fulfill.
My soul is now running, pacing back and forth.
Watching, waiting, listening for the trumpet
As Jesus opens the door.
My head is so light and I'm so dizzy in my stance.
It feels like he's got me in his arms
Rocking me into a deep and peaceful trance.
These thoughts are so nice, right and new.
My mind is finally at ease
And there's only one thing left to do.
Break down the walls of pain and hate,
Tell them I live above the anger,
And live for higher stakes.
My dream is now set,
And my goal is already in place.
Take up the cross and try my best,
Turn the other cheek and wear his joy upon my face.
Watching and waiting,
Wishing and praying, barely describe.
My king in the heavens,
And savior in the sky.
My day will come,
And oh I can't wait.
When Jesus calls out my name
And opens those pearly gates.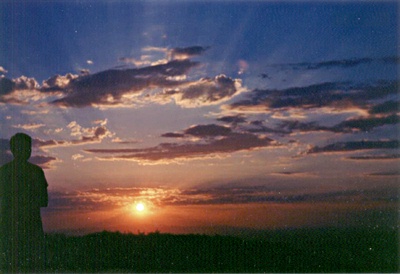 © Jovee B., Dededo, Guam