My Shadow
August 11, 2010
My shadow huddles in her sinister corner
Wearing costumes that are fit for a ball.
Her pale face remains quite neutral,
But it is her eyes that tell all.

She cowers and murmurs,
Hiding her face within her hands.
She keeps herself distant,
No one knows or is even sure
That this girl has a future or a plan.

She remains secluded
In the little corner of her world.
She hides behind stories of
Fairies and princesses,
Wishing that it were her.

In her right hand,
She clings to a photo that resembles
Her family and her friends.
This photo of hers brings sweet comfort
And reminds her that she is man.

With each passing day,
Colors around her begin to fade.
They seep and flow into her,
Leaving her feeling re-made.

Her costume loses color,
Her world begins to break down.
She shivers and quivers,
As she slowly slips from her gown.

She is now a mix of all colors
She is black as night.
She begins to disappear
Until she does not reappear any longer.


As I walked away,
I felt my body sway with a rhythm.
My shadow had given me a sway to my step,
A new sense of rhythm.

She now follows me wherever I go.
But she's no more than a figure
Casted to the ground,
She is my shadow,
She has no living bounds.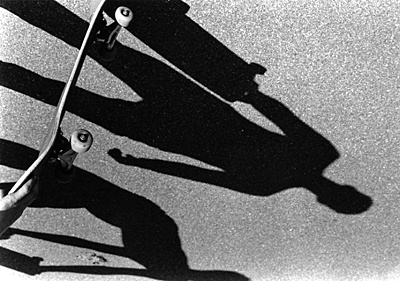 © Jeff P., Westport, MA