hearts are broken, and repaired, by others
July 27, 2010
You thought he loved you. You were honestly stupid enough to believe he cared, just the tiniest bit, about you. You thought he would maybe one day be the father of your beautiful children; you laughed, blushed and cried with him, you loved him and he loved you.

Of course, that was all a lie. He manipulated you, used you, he kissed you and you actually kissed him back. He hugged you, laughed with you. Told you you were beautiful when you knew you looked like a modern-day raggedy Ann.

He was the most beautiful guy you'd ever laid eyes on. He smiled when you looked at him, he flirted and you flirted back. Then you txt him, he seemed interested enough, so the conversation went on, and he told you all his worries, his pressures, and you confided right back with your struggles.

The next week he went to football camp, so you hugged him bye, telling him you'd miss him. He text you whenever the chance came up. All was well. Of course by this time you are going out. He's tells you he loves you and goodnight every night.

Then, the next week, he breaks up with you, he says you can still be friends, and you believe him, naturally.

Now, when you see him in the halls, you avoid his stare or him altogether, when you look at him on the stage on Wednesdays and he is staring at you, you wish you could sink into the darkness. You feel as though it would be better for the both of you to have never met each other.

Of course he lied. Of course he used you. Of course you hate him, but at the same time, you still love him, and knowing that the feeling isn't going to be returned is digging deeper into the just-healing hole in your tired, broken heart. That black, abyss of tears you cry every night over him won't change things, it won't make you feel better, but you feel as though if you don't let it out you will explode.

Love is a hopeless thing. There is nobody in the world who will understand you perfectly. But some will more than others. You should have seen it coming, he was, after all, two years older than you, but love is still love. No matter how much it bends, or breaks.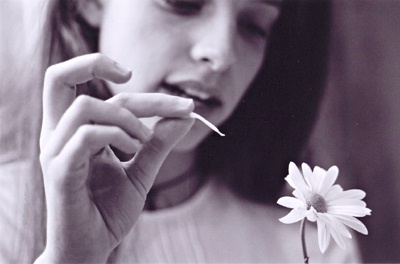 © Emily B., Houston, TX