Moral Impact
July 24, 2010
I thought back to one second of what I did,
Pure uncontrolled action dispelled from my id,
Thoughts binding, sights motion, un-confessed reaction,
Purely primitive and dismantled pure action,
I listened to my head, my heart, myself,
Corruption or disruption falling from words of someone else.
What I did was wrong (in corrupt shattered minds)
Through holes of fogged pupils (and what lies behind).
I call you evil; to fear is to not live,
To hate and not love, to take and not give,
Your…corrupted disfiguration, your affected brains,
Leaves me to look at shadows of what no longer remains.
My shadow, my id, consumes my life.
Automatically pushing through woe and strife,
So what then is my body (what is always seen)?
The cover of morals I hold very keen?
My body's a device, something I can't outrun,
My shadow-my id- goes away with the sun.
But I am ruled by my own absence of morality,
For my spirit, my shadow, is drenched in immortality.
It caresses and grips the ability to kill,
And by light of sun winks at hints of evil.
My body seems to move with no thought of motion,
My heart continues to beat with no hint of emotion,
Am I a prisoner? Am I trapped, to be saved?
Or is this absence of 'normality' causing me to enslave?
But isn't that itself…this idea of insane trains of thought,
What each and every sane being in the ground had sought?
Why-I ask again- are these thoughts holding me down?
Personally digging a knife into my smiling frown.
Would I fly without thoughts-the ability to think?
Or are they holding me up, so without them I'd sink?
How in heaven's hell can I answer this kind,
For the thoughts- so elusive-also make me blind.
My chained arms reach to feel around me,
My fingers and ears shadowing what I cannot see,
I try-I strive- for perfection, a glimpse,
But the heat of the world impacts my wince.
Am I so abnormal, or is this not a surprise?
Am I the only one wishing to open my eyes?
I feel caught-without paddle, without rope,
Without the ability to foresee or cope,
Restricted, choked, for my biggest wreck,
Is that the chains holding me down are chained to my neck.
But that's the opposed opinion, to my greatest fear,
For I'm terrified and frightened that my chains aren't here.
What then is made of my life, and myself?
Who then is this person I can no longer help?
If my morals are guidelines to the rest of the world,
Then the absence of my existence is the fear that's unfurled.
If I affected the ground, soil, I call my own,
But was not allowed the opportunity to call it my home,
Then my reality, my vision (that doesn't exist),
No longer contributes to history's twist.
And for this I do fear, and if all goes out of place,
I'm terrified I'll open my eyes to blank space.
But I watch as others move, I feel their footsteps,
I change my path to steer out of those they have kept,
My terror stems from the lack of originality,
What if my sole purpose is to copy morality?
If the population-humanity-managed to do just that,
Then I'd gaze in immobile terror at the place I had sat,
I'd watch corruption take place, and all that would remain,
Would be the remnants of unbroken, and unfilled chains,
But they would be marked, with my eyes and myself,
And I would sit there blindly watching, unable to help.
But if this change took place, and my morality copied,
While I was alive, to breathe and to see,
Then when I am laid, to a sorrowful (blissful) rest,
Visions of my world would no longer contest,
And as these visions flashed through my brain,
(For memories, in death, are all that remain),
I would smirk, my lips curled, and wink (my eyes closed),
As I witnessed the images of the world I had known.
As my own shaped earth, my morals pulled tight,
As the shadows of id, crept up in the night,
As the ones subjected to the pull of the past,
Were finally put in the ground at last,
For new life to grow, to fertilize good health
And to re-distinguish the problems with which we've dealt,
For only the cycle, of living revenge,
Stops those dead in the cold, with all of their friends,
From continuing on, to shape with dirty hands,
The morals and reality that I cannot stand.
If my morals remain, but I no longer do,
The least that can go wrong is they are thrust upon you.
If I no longer exist to repent or defend,
Then to you no longer, my morals I'll send,
As I sit here with smirks, unknowingly chained to the ground,
Laughing indignantly at your pathetic footsteps' sounds,
I'll wink at the danger, of ego and trust,
And only face darkness if you no longer must,
For my light and my spark, my truth and my change,
Is what you all would define as strange,
What you don't see, as my lids cover my eyes,
Are the thoughts that I think, and the mind I've devised,
The object I am, the subject you are,
And the painful reminder on your moral's scar,
That I am what you think, and you are what I see,
And your world (one day) will be controlled by my morality.
For my chains will be broken, my eyes thrust into light,
And there will be no clear distinction between wrong and right,
Truth will burn all other being's sight,
And I will be the one to distinguish the darkness from white.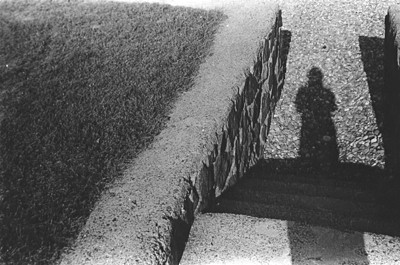 © Dave P., Marblehead, MA