Daisy Oberlin
July 2, 2010
I am cloaked in heavy doses of apricot powder, the shade is not my own. My eyes flaked in solidified oil.
Lips smothered in vermilion concealed my carnation lips. I can only imagine
the malodorous clayed scent it emits. If my lungs were not
collapsed, its arteries paralyzed of its mechanics, phlegm would have
climbed up my esophagus, bleeding from my mouth. I lay stiffly, untouched
Slipped in a passementerie creamed dress,
Immaculate as the Virgin herself. My jejune
copper hair coiled harshly up from the unpigmented
nape of my neck. My head planted on the fluffed
silk doilies at the head of the mahogany crate. I
do not understand why it's there, I am numbed
from the wood's glossily rigid surface. Maybe
it's for my mother, who desperately wants to believe
That my skull can feel it. That every minute crater
collides with my malnourished body. She walked up
closely, grinding her index finger and thumb
on my forearm. She noticed it like I did. I lay there
still my flesh no longer elastic, no longer daubed
With life's carmine glow. I am a porcelain doll.
My arms grayed, frigid as the doll's glassy skin.
Lips and Cheeks dabbled in an imitation of
animation. A tear shed from her glassy eyes.
Dripped on my lifeless lips. I yearn to taste
its crisp saltiness.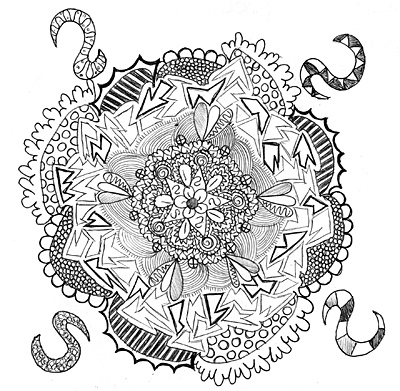 © Taylor P., Maple Vally, WA