She Taps Her Pencil
June 16, 2010
Students in desks,
teacher at board.
Teacher drones on,
the kids terribly bored.

Girl taps pencil,
Boy looks around,
trying to tune out
the monotonous sound.

Paying no attention,
Boy goes on,
gazing at faces
he sits among.

He stops at one person
and doesn't move on.
Boy sits and stares
at the girl with a messy bun.

Boy stares silently
as Girl pops a bubble.
She sucks the gum in
and Boy knows she's trouble.

Girl takes out bun;
Boy continues to stare
as it falls to her shoulders,
her raven black hair.

Girl turns around,
sensing his eyes.
Boy doesn't move
but, instead, says hi.

Girl cocks an eyebrow,
then shows him a smile.
Boy grins back then
continues to watch, every once in a while.

The bell finally rings,
and the class is now over.
Boy calls to Girl
that he has something to tell her.

They go into the hallway,
shoulder to shoulder.
And then on a bench,
Boy sits beside her.

Girl thinks to herself
that the boy is shy.
Then concludes this
when he won't meet her eyes.

Taking a breath,
Boy finally looks up.
Amethyst meets blue;
Now Boy is in love.

Scared, he looks down,
and shuts his mouth.
He thinks to himself
that enough is enough.

Being very patient,
Girl smiles to herself.
She grins as she notes
how boy needs to be true to himself.

Boy's very quiet,
then says, "It's not fair."
Girl asks, "What's not?"
"That it's rude to stare."

Girl blushes deep,
then says, "It's okay."
Boy says, "It's not,"
then looks away.

Girl takes Boy's hand,
their fingers entwined.
She smiles shyly,
then says, "It really is fine."

The bell rings abruptly,
ruining their moment.
And then, before leaving,
they lock eyes for one more minute.

Let's take a look
at this very first day.
The very first day of friendship,
laughter, and love, if we may.

This is the day -
one day they'll remember.
A day they will never forget,
even when fighting a ghost named Ember.

It's of how they first met,
how unique they both are.
Lost in their own world
and lost in their thoughts.

Their first minute,
together at last.
Now they are sure
that the storm will pass.

With each others help,
they'll both overcome.
Overcome troubles,
knowing never to run.

Of course, one day,
will come along another.
One more person,
then three will add up together.

And with everyone's help,
they'll soon be together.
Both Boy and Girl have
and will always love each other.

But let's go back to this moment,
to Boy's small grin and the smile Girl wears.
We all know everything
started with a stare.

Well isn't this a surprising pair?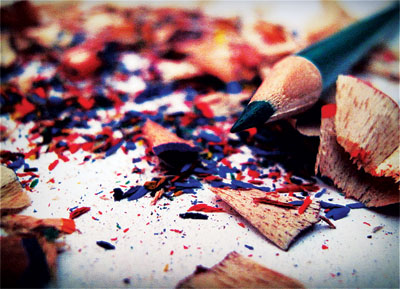 © Rosalee M., Lowell, MA