Youth
June 6, 2010
I remember you as you were.
The leather jacket lined with fur
Driving top down into the city lights.
Not a care in the world.
Not a care in your life.
you were loose, you were cool, wild yet, chill
You're foot on the pedal
One hand steered the wheel
Of your little hot rod
Yhe other pulled me close
Hugged me and sheilded my eyes
As we started to coast
Off the side of the road
I could feel the car go
I always thought that you we're in control
but we flew off a cliff
and crashed into the dust

what happened to us...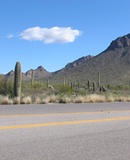 © Aleksandra K., Tucson, AZ