riding
May 13, 2010
Riding
Riding a horse is a wonderful thing really
Even though when you mount you look silly.

You hoist yourself up and give a little cluck
and hope that your bronco does not buck.

If you loosen your reins and give him his head,
Then he will listen to what you have said.

You will think that he's a prince's steed,
As he swiftly and safely gains speed.

You sit up straight and sit back in your seat
And listen to the pounding of his four beat gait.

After a while you will start to go faster
And soon he will forget that you are his master.

You will feel the wind blow straight through your hair,
While you forget all of the worlds cares.

You soon remember that it's time to go back,
to take off all of your sweaty tack.

You slowly pull back to turn him around
And listen to the wind sadly die down.

You walk back swiftly with your head held high
And you know that this memory will never die.

You put him away and tie him up
And then go home in your big red truck.

When you get home you take off your boots,
Then you look at all your latest cow hand recruits.

After a while I put down my pen
And I know that this day will never happen again.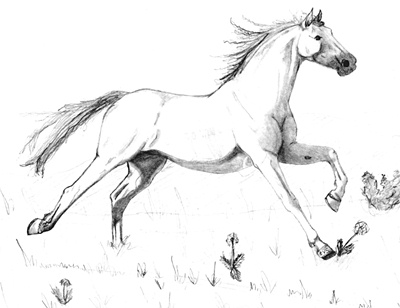 © Elissa S., Palmyra, PA