A Meditation on Sociality
May 28, 2010
Look me in the eyes.
What do you see? Loneliness? Alienation? Solitariness? A fraud? Can you see right through me?
Each day, I wake up and glance into the mirror, patiently waiting for a change.
A change that will never happen, just like the mountains growing legs
and moving to a new piece of dirt, a new location, a new world, a new reality.

Day in and day out, is it all worth it? The anguish of this all?
The thoughts of subtle darkness arise amongst us all and dictates our Nature's calling:
Go to school, go back home. Do homework. Be a good child.
Is this all reality? School, the poison that kills us all emerges silently and exits dangerously.
School only meant as a safe haven for arrivals and departures of everyday students.

At home, life stood still, like a ghost perched in the shadows waiting to haunt for the perfect soul.
Being trapped in these four white walls of utter boredom,
Silence flows freely throughout. The drop of a pen lifts the spirits higher and higher, until they
pop and disperse. Just like balloons, energy only goes so high and lasts for so long.

Life flows through both reflections. Life sees right through you. Just like a mirror.
Life flies by, leaving only a trace of the studious past and a hint of boredom.
Life changes and manipulates, but will you too? Days move on, second chances occur,
laughs develop. It all leads to tight, toned, abdominal muscles.

Just laugh your heart out, laugh like there's no tomorrow,
laugh like no one's watching, laugh until fluids flow.
Live for the smiles. Just open your mouth and make noise.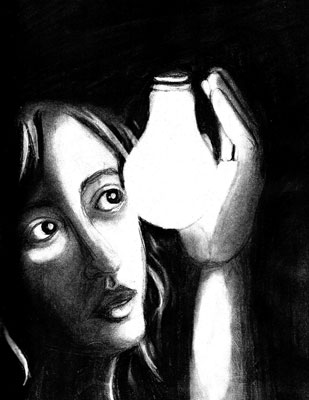 © Jessica P., Bethel Park, PA