Fade Away
MAG
May 28, 2010
My mother mixed up a bit of sugar and spice
And gave out four white blossoms,
The flowers of her bouquet.
Day by day,
Her hair lost strength and collapsed on the cold plain tile
On a rainy day,
In the month of May.
She consumed the sunlight during photosynthesis,
During the times of struggle against that sick disease
That keeps eating her soul away,
And covered the black worms with the crunch of leaves
In October.
The shutter sound echoes
A flash of blue light that illuminates her smile away,
And a tune for mother's day.
I sang to her while holding a Hallmark card in my hands,
Her tears said more than her words.
She absorbs the glucose from all her loved ones,
Creating a halo on the pedals lying beside her bed.
But her roots will continue to expand 'til the blue light
Begins to fade away.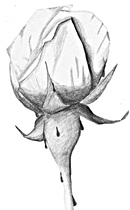 © Elaine S., Phoenix, AZ