Original Teenager
May 25, 2010
She is sixteen, say the birthday angels
carefully lined up on a shelf in her room;
an avid reader as well, say the bookcase,
overflowing, and stack of books beside her wall;
a little kid at heart, say the piles
of stuffed animals atop her bed;
a bit of a procrastinator, says the basket,
filled with laundry that has yet to be put away.

She's a girly-girl, say the pink walls
and zebra print bedspread; Paris is
her favorite city, says the Eiffel Tower
hanging perfectly on her wall; she aspires to live
like Audrey Hepburn, say the quote and posters
on the wall above her bed; she loves music,
say the various Rolling Stone covers on her wall.

She's a little messy, say the clothes and magazines
strewn across her floor; make-up is fun,
says the vanity exploding with cosmetics;
her faith is important, says the bible,
worn from use, on her nightstand;
she has a sweet tooth, say the candy wrappers in the trash;
she loves her family, say the multiple photos on her wall;
she's a high schooler, say the textbooks on the floor;
she's an original teenager, they say.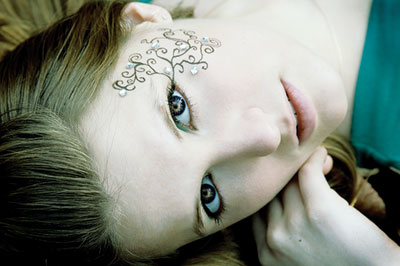 © Michelle B., Blairsville, GA