Dreaming of Prince Charming-A Sestina
May 10, 2010
Over the hills above the sky floats a cloud
against the sparkling sky shining like amethyst purple.
She watches, then toward the sky she reaches.
She twirls and jumps, careful not the tread upon her dress,
and with a careless heart she yields to hope.
Maybe, just maybe, today with Prince Charming her slender feet will dance.

The sunlight pours down in a heavenly dance
that is now and then blocked by a lonely floating cloud.
Her hands weave flawlessly and breezily in the air, not least daunted by taunting hope.
Hope, what a wonderful and terrible thing, deep and forbidding as the color purple,
perfectly matching her most beautiful, eye-catching dress.
She hears nearby upon a branch the baby chicks' hungry mouths calling and reaching.

She breaks out of her reverie, absently watching the ocean crash and reach
for the sand. Suddenly she seems to start. With a little flutter of her dancing
lace shoes, she flies down the stairs, daintily holding up her dress
as she descends, exquisite, careful step after another, into a wonderful cloud
of the aromas of dinner, prepared by multiple gourmet chefs. She smells the purple
scent of lavender, her favorite smell and gourmet seasoning, and she dearly hopes

the cook remembered to slip some secretly in her disgusting, hopeless,
"you-must-eat-it-it's-good-for-you" asparagus. Maybe, she thinks, it will only reach
my mouth for a second before I smell the sweet, purple
scent of lavender that obscures the revolting taste. Entering the room, the smells dance
lightly upon her appreciative nose, not in the least clouding
her desire to eat like a pig, with tons and squirts of added dressing

to the top of her salad. Luckily, that knuckleheaded servant remembered to bring dressing
onto the heavily decorated table, just as she had hoped.
Her senses are no longer tantalizingly clouded
as she, with her graceful, heavily jewel-encrusted fingers, reaches
for her fork. The wonderfully prepared food seems to dance
before her eyes, for the steam waves and wobbles, stained purple.

She finishes, wiping her mouth, excitement takes over as she fingers her beautiful purple
dress under the table. It is her favorite, most stunning dress,
all adorned, frilled, and laced ready for the annual King's Ball dance
tonight. She peers out the window, watching carriages stop in front of the grand doors, hoping
that one may contain her future prince. Her heart races, reaching
far beyond the usual imagination's ordinary fluffy clouds.

She steps on her personal cloud as she glides into the ballroom in her amethyst purple
Eyes turn as she enters. One handsome prince reaches for her hand. She smoothes her dress
quickly and curtsies, hoping that it is Him. They step into the spotlight, and begin to dance.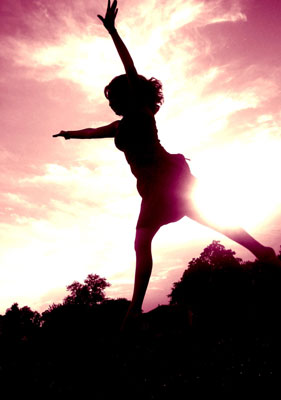 © Martha V., Morton Grove, IL