Hollow
May 3, 2010
A boy in the prime of his youth sits on the playground swing,
waiting for her to return.
He has flashes of stifled, hushed memories
that only deepen the burn.



Sitting on the porch he watches
a girl across the street.
Their eyes catch but she looks away.
But somewhere, inside his gut, he feels complete.

He reaches somewhere deep
and pulls out any nerve he thinks he has kept in possession.
He makes his way across the road
at his own discretion.

The crisp autumn wind caresses his cheek,
and her hair flies around his face
as if to hold him,
and he's lost in the embrace.

Days in and days out,
they meet again and again
for a reason neither seem to be able
to bring to the surface and explain.

Bitter, bleak winter days spent together,
wrapped in thin covers,
as an attempt to keep out the biting chill.
They feel safe with the warmth of their lover.



Black eyes that cry black tears.
Praying to a god that never responds.
Only a shell of what he used to be.
He cries for the acidic, broken bond.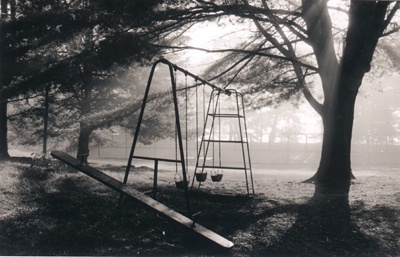 © Steven S., Marblehead, MA