Power to Rise
April 9, 2010
The mist came tumbling in,
As the darkness reached its peak.
A flower wilted to the ground,
Its soul so hollow and bleak.

But as the mist came tumbling in,
So did another sight-
That of a brilliant ray
Of beautiful sunshine light.

And as the mist went tumbling out,
The light killed every sneer.
The flower, now radiant once again,
Overcame its deadly fear.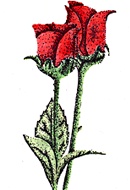 © Sarah M., Phoenix, AZ