Jayden
March 21, 2010
She loved hiking and the outdoors,
She enjoyed campfires but hated smores.
These were just the things you recognized and more,
You actually cared about these little details than any other girl before.
As if studying her would unlike the only person you couldn't figure out,
In your mind she was the most complex person without a doubt.
But now you can only see her when she shines through the light,
And you can only hear her on a dark starry night.
You can only feel her as the wind blows through your hair,
And sweet foods you taste her although it is often rare.
You never really understood why she meant that much to you,
Your life was such a blur of fake people and lies she was the only thing that was true.
You can't get her out of your mind even if you tried,
At first these were feelings you tried to hide.
It's just that she was a different person than everyone else was,
Because of this she was considered 'uncool' because she didn't follow what everyone else did or does.
All the jealous girls envied her for it,
She knew they talked about her, but didn't bother her a bit.
Surprised you never expected to be more than just friends,
She has a new way of looking at life and made you look at it through her lens.
You tried to pretend there was nothing going on even though there was,
She's got that sweet sense of humor your mother loved.
You never acknowledged or walked in public with her,
In fear that your friends would find out what you truly were.
Yeah so your friends bullied her and made her life hard,
When you were with her she gave you her heart, and you let down your guard.
Your friends saw you flirting one day,
You told them she was 'hideous' in front of her, her shattered heart on display.
After that she never shouted mean comments or gave dirty looks in the hall,
But she crashed that day and you didn't catch her fall.
You almost wish she would have yelled and screamed at you,
Because it would have been easier to handle that than the silence and the way she didn't look at you but though.
She did the best she could with her life,
Your friends harassed her and their words cut through her like a knife.
I never had enough courage to ever stick up for her,
I never guess what was about to occur.
It happened on the fourth of May,
It is really hard to describe that day.
Why my friends made inappropriate comments about her dad,
I knew he was dead and it made her very sad.
Medics say it happened in her bathroom shower,
They say that they were too late by over an hour.
She was two feet off the ground,
Her body told the story but she made no sound.
That thick wire rope,
She did something for the first time that day, she lost hope.
I never could grasp the concept and never went to her funeral that day,
My friends weren't my friends and I never understood the games they use to play.
Standing in front of a huge audience I spoke,
Even to this day the words so awful I try not to choke.
I speak out in schools all over for bullying now,
But my head is still filled with shame and my head bow.
I always keep those images of her in my mind,
Whether I like them or not they always play and re-wind.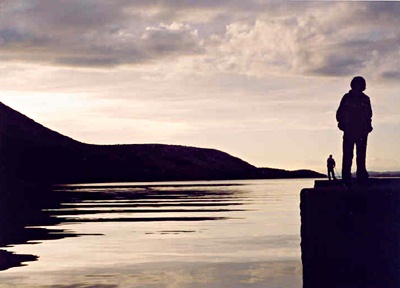 © Julia K., Nagykovacsi, Hungary