It's So Easy
March 16, 2010
It's easy to judge someone when you know nothing about them
Like that girl that lives down the street from you
She walks alone, stumbles, and drops all her stuff
And the kids around you laugh, stare, and ridicule her
Sometimes you forget that you're one of those people
Giggling at her pain
It's pretty easy to hurt someone you think is "lower" than you, huh?
Their weird clothes, or the way they talk is really strange
But when you look closer, she's crying
Her face is red and she desperately tries to hide it
Trying to not embarrass herself anymore,
Even though she knows she can't change what you think about her
When you get to school, her memory goes to the back corners of your mind
Then a disabled boy wheels himself into school
And suddenly the girls face pops back up,
But you notice everyone elses face is simpathetic
Watching that poor child makes them feel so lucky to be "normal"
But isn't there something wrong here?
What is the difference between this classmate and that girl?
Because he is disabled, it's suddenly wrong for someone to judge them
You know it's a fake front, so they can look more "mature"
But what makes it right to judge the lonely girl,
That would give anything in the world for just one friend?
So think about it next time
It's so easy to judge someone you don't know
And it's so much easier to judge someone who is "weird and different"
We're all different, that's not a reason to be made fun of
The universal constants are smiles and tears
What would you rather cause for someone else?
It's so easy.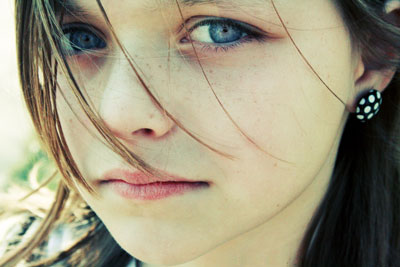 © Felicia R., Arlington Heights, IL