Her Hands
March 20, 2010
I only know one pair of hands that are not my own.
I used to hold these hands everyday.
But I will never hold them again. They broke my heart.
Long, bony fingers, dry around the nails; her hands are a portrait of her insecurity.
Yet they sparkled with maroon magnificence.

We were only together for two months, yet she meant the world to me.
I want to be angry at her for playing me and for suddenly changing her mind,
We had so much planned.
Yet I can't help but look back on all of the priceless moments we shared,
Smile, wonder what she is doing, and wish I could hold those hands one more time.

I tried to reach out and help her,
But she didn't grab on.
I knew she was immature and had issues,
But it turns out she wasn't willing to face them.
So many people doubted us.
I just couldn't resist

So many unanswered questions;
So much unfinished business.
I don't understand her reasoning.
I just hope she is happy.
I do know one thing for sure though.
When I held those hands,
I felt excited, appreciated, and warm.
I felt safe.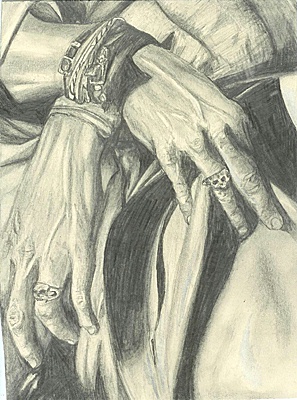 © Angela K., Kansasville, WI