The Mirror
February 19, 2010
I'm so sick of writing about how I'm broken.
Some things are better left unspoken.
I'm sick of writing about my Dad too.
It doesn't matter to me, so why should it to you?
And I'm sick of my self pity, and this act.
Listen to each unknown fact.
I write not because of a want, but a need.
I write so that I can succeed.
But I hate what's written, because it's a part of me.
And I hate the broken boy you see.
He's so strong and too tough,
And he doesn't even have it rough.
But happiness doesn't want to stay.
Just like his self, it wants to run away.
I'm tired of trying to explain it all.
I'm tired of being blamed for their downfall.
You don't know how horrible I feel deep down.
You don't know the reason for my frown.
Well maybe you do, because you read each rhyme.
But I just write it out, and then I don't have time.
No time to figure myself out, no time left to care.
I'm just a person in my life that isn't really there.
I walk around, and I'm scared because of everything.
Nothing makes it better, not anything.
I smiled tonight for the first time in awhile.
I even fought an inside battle to keep my smile.
But guess what, I lost.
And now this poem is paying the cost.
So just to say it, I hate this poem too.
And I feel bad for the person reading it, I feel bad for you.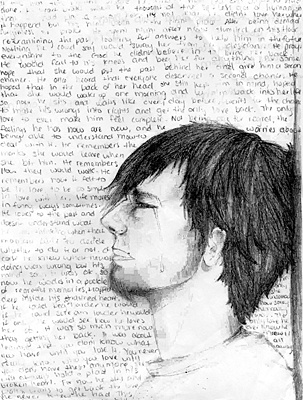 © Annie M., Columbiana, OH