Day By Day
February 5, 2010
Riddled by fear,
I am drenched in tears.
How I hold you so dear,
enduring these past couple of years.
I really wish I could tell you the truth,
but look at you.
I see her on your arm,
you impress her with your charm.
You act like you care,
trying to make me feel like I'm floating in the air,
but the truth isn't there.
I see you gazing into my eyes,
trying to cover up your lies.
It's breaking my heart,
I'm falling apart.
My mind is so hazy,
I think I'm going crazy.
My heart is beating fast,
how long will this last?
I've been holding it in for so long,
but my love is just too strong.
I can't breathe,
but I can't leave.
Something makes me stay,
so I take it day by day.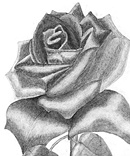 © Nghi L., Phoenix, AZ