My Spring Dog
January 27, 2010
My dog is my good friend and I love her bunches,
She takes away my loneliness and sits through my crunches.
She is very loyal and trusting,
And dreads it when we part,
I remember it from the very start.
A warm April day was when I visited the pound,
To fulfill my desire to own my very own hound.
A quiet dog was staring scared with those big sad eyes,
And I could not bear to leave her there
So I called the other pair.
My dad and mom drove over as quickly as they could,
And my dad was fond of her though no one thought he would.
We filled out the paperwork and were allowed to bring her home
And still to this day we have not regretted a thing,
No matter how many times she hits the wall with a ping.
What is my dog's name or the kind of breed she is?
Well Jet is a black lab mix and the best of the best
She succeeds in everything better than the rest.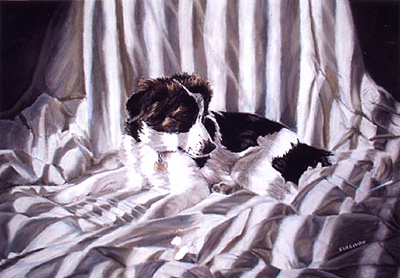 © Meg S., Andover, MA