How Long Does it Take to Straighten Your Hair?
January 15, 2010
No time at all. Honestly.
I just wiggle my nose and close my eyes –
Then BAM! My hair is bone straight.
It's magic, I swear.

Like 5 minutes.
I am in possession of
THE most powerful straightener
the world has ever known.
There is only one in existence.
It runs on nuclear energy.
It's illegal in Japan, Mexico, AND Mozambique.
You do not realize the amount of favors –
from politicians and diplomats I don't even know -
that I had to ask for.
But now my morning routine goes by in a flash!

About 30 minutes.
I know – seems a bit fast for my curls,
but I use a fancy schmancy
Chai,
or Tea,
or Chai Tea,
or Bumble Bee,
or maybe Banshee –
or whatever that one's called.
I don't know, but it's top of the line –
gets my hair straight in no time.

2 FREAKING HOURS.
YES. I KNOW – THAT'S FOREVER AND A HALF.
IT'S BECAUSE OF MY MOM'S CHEAP DRUGSTORE STRAIGHTENER,
COMPLETELY COVERED IN CRUSTY HAIRSPRAY,
HALF AS POWERFUL BECAUSE IT'S SO OLD,
AND BARELY RELABLE BECAUSE OF THE BENT CORDS.
In a word, this straightener sucks.

One year.
Yes… believe it.
Its mostly because I'll start to straighten it,
But then I'll want to shower,
Or maybe I'll hear something interesting on the tv,
Or maybe my internet addictions gets to me,
Or perhaps I just get too tired.
Each month, my hair steadily becomes straighter,
And it may seem too slow for you,
But I want my hair straight for that New Years party.

An eternity.
Yes – it is possible.

Actually, I don't really like my hair straightened.
I've only straightened it like 3 times in my life,
So I could really care less how long it takes –
But the fact that you care more than I do concerns me.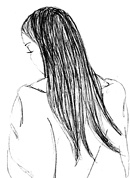 © Miranda B., Neosho, MO