God's Canvas
January 1, 2010
A year is full of adventure and fun,
From playing in the snow to sitting in the sun.
A year, it comes with a minor consolation,
Although it may fade, there is still nature's revivification.

A tree looks bare, sad and unimportant, as if life was taken from it,
But behold, a blessing comes, as though from God's pocket.
With a stroke and a brush, a new picture is formed,
As the snow falls and covers the land, it no longer is bored.
Life, glory, and brilliance is found,
The tree was mute but now it has sound!
With hibernation and migration, and just a bad sensation,
Winter's chill is put away and what comes is a glorious creation.
A kind of art that connects those who are dear.
I do not mean to be trapped inside with relatives for a beer,
But rather the kind of connection that one rarely can feel,
Living in this world where emotion is unreal.
A kind of link, like that of an atom, through the molecules of snow,
That carries you and your spirit to places only it may know.
And awaiting on the other side of this roller-coaster ride,
Is non-other than the one your heart cannot hide.
Through the path of the snow the union is found,
And as I look up and see the miracle most profound,
I wonder if anyone else is able to see such splendor.
To get off of their narcissistic couch, and open an unfamiliar door,
To a beautiful canvas painted for them,
A gift that not even Hollywood and any technological system,
Which above all we value and treasure,
Could ever capture.

So as winter runs its course and nature, naturally, does too,
Will you fall under temptation, or find something new?
Not always does one have to be so self-concerned,
Take a look around, it is all so absurd.
We live in a world, with intelligence above any other,
And still we find a need to shoot our own brother.
Look up into the sky and tell me what you see,
Tell me what the stars are made of, is it mercury?

And does the picture continue?
Can you find it in you?
What about beyond the clouds and stars?
Beyond the milky-way is there a set of bars?
Or is there another galaxy that would simply blow your mind?
Something above what an average astronaut could find.
Can we work through the bars and binds and behold,
Something like ours, filled with riches worth more than gold.
Wouldn't that be cool to see what is out there,
Rather than to just sit here and stare?

To get there we just need to succeed,
In more than what the world tells us we need.
To find love, and cherish it above all,
And to live our lives as if we want to be just an inch more tall.
This way we will never settle,
And we will end up winning our battle.
Find your own way and throw out the trash,
Just look to the painting and find your path,
The path that nature so kindly shows you,
The only thing is, to yourself you must be true.
The adventure may be dangerous, are you up for the fight?
Or are you holding onto something else too tight?
Just sit back and think of that simple, unimportant and bare tree,
Make haste slowly, is that who you want to be?
Make sure that in yourself you believe,
And your heart will lead you to where you deserve to be.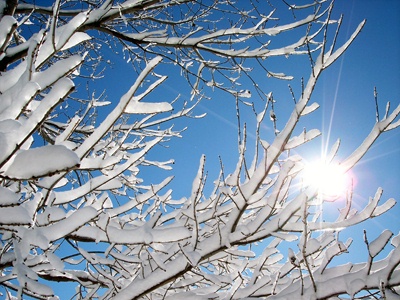 © Barbara S., Hoffman Estates, IL