Molly
January 6, 2010
She's adorable when she's asleep,
With her head over the couch,
Her ears dangling to either side.
She reminds us that she means no harm.

She is so excited to see people, after being in her cage all day.
She jumps, and it almost makes you fall over.
Her tail is going the whole time
It crashes the garbage can, making an uneven drum beat.

She chases cats all day almost, like it's her job.
She'll lie down, and in an instant get back up because she saw a tail.
We will know where she is if we can hear a growling cat upstairs, with the occasional bark from Molly as well.
We get mad at her, and then melt as we see the puppy-dog look.

She is a 60 pound dog, who's supposed to be 10 pounds.
She really doesn't know how much she really weighs.
She loves to cuddle,
She will come on the couch and lay with you until you get pushed off.
She's not so bad when she settles down
She just wants to lay with you in the end.

We all love her so much,
Even though she didn't turn out the way that we expected.
In the end, we are glad of what we ended up with
Our dog is very large, and she doesn't know how much she weighs.
She is Molly,
We will love her no matter what.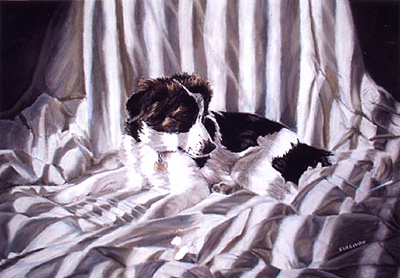 © Meg S., Andover, MA