a diffrent mee
December 14, 2009
When i was 13 years old i lost my bestfriend and my entire world fell apart it sucked. I
thought about things a 13 year old should not think about,like when i was going
to die,when someone elses world would fall apart and everything in between. i started getting more private and closed in not wanting to share anything with anyone..
trying to ease my pain i made quick solutions somethingg to get over the real wrold it was my escape.. i would lock myself into my room put the radio on full blast so no one not even a cold and empty soul could hear me,, yelling screaming and gasping for air tryingg to make myself belive this was all just a real bad dream..
thats when i realized dreams are'nt suppost to hurt you. i slithered into the restroom as i locked myself in there trying to find my new best friend..
i started cutting at the age seven and grew out of it only because of mark he changed eveything i mean i was addicted but he caame along and stoped it. once i found out he killed himself i was so scared i didnt tell anyone because i knew they were gonna judge me or him and i dont think none of us deserve that..
someone who understood and always was there for me was lost in a blink of an eye..
i guess it's true.. you dont know what you got until its gone..
he was speacil and to this day he will never be forgotten..
how do i stay stong? thats one answer i guess ill never find out..
i just otta pray real hard hoping it will go away..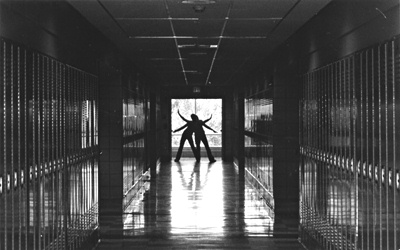 © Sheera G., Marblehead, MA