Forever in the Light
December 3, 2009
Down by the river, I sit there dreaming,
Waiting so patiently and alone for him.
As crystal clear water goes streaming,
And the light of the sun leisurely dims.

The sky colored by lilac, rose, and red,
Still I am there, by waters calm and still.
Night is here, all golden light has fled,
Then he appears on the crest of the hill.

Shining on him, the silver of the moon,
He stands there, tall and lean and strong.
I smile, for he has accepted me so soon,
Him, who to me, he could do no wrong.

He descends down to me by the brook,
With a halo of moonlight and starshine.
Almost like a prince from a storybook,
I can hardly believe that he is all mine.

He is approaching me; I rise and stand,
A smile brilliant as the sun on his face.
Shyly, to me he stretches out his hand,
And so I take it with eager, timid grace.

With an unspoken consent, off we stroll,
Walking peacefully by the starlit creek.
As slowly as the soothing river flows,
Courage to confess; the two of us seek.

But no words are needed; a kiss is all,
Freeing secret passion kept concealed.
The first kiss, growing big from small,
'Tis not the last, as destiny will reveal.

Both of us illuminated by starry night,
Held by each other and by silvery rays.
Our love is shining bright as the light,
We could stay here 'till the end of days.

But now the moon is going to slumber,
And the morning sun is tingeing the sky.
Dewdrops upon the grass in its wonder,
The gentle wind breezing in soft sighs.

Alas, no matter what, life must go on,
But now, we will be together, for always.
We two are one; like the sun and dawn,
Even in death, we will never part ways.

I look at him and he smiles gently back,
For we see our lives are barely starting.
Molten gold forever outshining black,
Our passion shall sing through anything.

Simply for the other, we will be there,
Standing so resolute at the other's side.
Nowadays, powerful love so pure is rare,
We would do anything; as one to be tied.

He would surrender his life for his love,
To save me from any war, from any pain.
From my life; he would not walk out of,
As he would be falling nobly with the rain.

I would battle through all the stormy seas,
Of loss and pain, trial, remorse, and regret.
Just to see my true love smile down on me,
For that warm look I would never forget.

All our sacrifices would not be for naught,
As we have a fierce bond connecting us.
We will overcome what people thought,
Impossible, and meet in the heavens thus.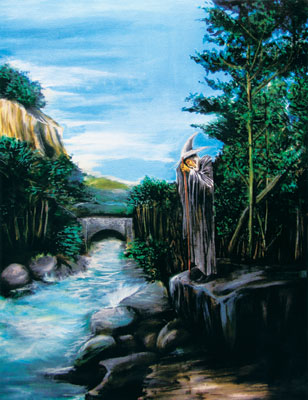 © Mick G., Bellevue, NE