I got my gaurd up
November 22, 2009
I got my gaurd up, you wonder why,
my heart screams on the
inside,its on fire.
Im burning with pain from the false love you gave,
Sometimes i think somethings wrong with me, what do you want that i didnt have?
you told me you loved me and i opened up and let you in.
i thought you was forreal, now its hard for me to trust again.
They wonder why i play hard to get, its because of you.
love, trust, and open up is 3 things i'll never do,
i don't tell you how i feel, you may leave.
i'm scared to catch feelings cause you just tease.
i've seen a lot of things in my life, and i just want the one thats right.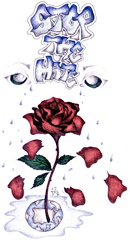 © Diana G., Phoenix, AZ