How Love Could Feel
November 21, 2009
He's stitting alone,
trying to hold back the pain.
Under that bridge he calls home,
he hides from the rain.

He longs for someone to hold,
soneone that he can kiss.
He needs someone to save him from this cold,
he needs someone that he can miss.

He sees her face in his dreams,
wishing she were real.
Hopeless is how it seems,
wishing he knew how love could feel.

Day by day,
he sits alone.
He was pushed away,
forced from his own home.

Here he lies,
he's become so lost and confused.
Deep down inside he cries,
as his body remains so unused.

Lying there,
he begins to fade away.
He dreams of someone to care,
someone that can take this pain away.

He longs to kiss her soft sweet lips,
and run his fingers through her hair.
Gently he wants to hug her fragile hips,
just to let her know he's there.

He longs to hold her tight,
he never wants to let her go.
He wants to hold her through the night,
he longs to let his feelings show.

He opens his eyes,
not wanting this feeling to stay.
He puts himself in disguise,
without anything left to say.

He's fading into black array,
needing her to be real.
His mind begins to fade to gray,
still longing to know how love could feel.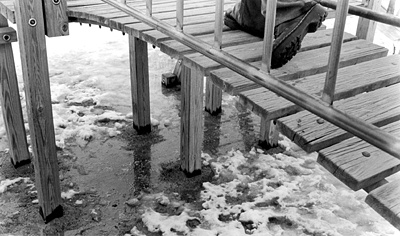 © Rebecca S., Marblehead, MA