afterword to porphyria's lover
November 13, 2009
There you stand, dripping there in shock,
As the louder bells toll, on a far away clock,
And stare at me now as if I've gone mad.
Certainly an hour or so ago, I had
Seen and thought the same.
Tell you now, I will of she who sits beside
Me. Her golden head on a shoulder that cried,
Her name, only moments before you,
That darkened portal with the storm came through,
And stirred her gown.
What eyes had she, my lover, so dear,
And still her pretty head rests here,
on my shoulder. Her yellow hair a thick gold curtain,
And only this I know for certain,
She'll never wake again for me.
Oh how I lover her, but her pain was my torment,
I could never have her for as long
as the others would, in a torrent
Of sorrow my heart wailed its song
And I silenced the constant scream
of her eyes, and further paled the skin like cream,
Beneath my gentle fingers.
That gold band I gave her, turned
a faint shade of violet, or so I've learned,
And in her laughing eyes, there it was pure,
The subtlety of triumph, and now I'm sure,
She felt no pain. And she never fought,
That was a bit of a wonder, then I thought,
But I knew her wish, and I suppose now it was true.
A beauty lashed constant, by the whips of pain,
Through the unrelenting rain
She came to me. And I alone could save
Her from what god once gave,
An angel as if she'd angered him.
Condemn me if you have not the heart,
to leave together what was torn apart
from me. Let me fade beside her now,
as a final curtain falls, and I take my bow
as if I've preformed for you.
For her I held all together, though I
myself had failed and her heart flew by
my own. And oh, the glory! In her face,
on her lips, once so cold, now with a smile's trace.
and I know god has no say in mercy.
It was my intention to love her true,
no matter now. My words for you
mean all and nothing. So I ask,
from you this one and final task
I cannot complete alone.
Yes, you, the woman standing there,
The one with my beloved's hair,
Twisted and wound about your head,
Whose eyes speak what your lips never said.
You thank me.
Send me to Porphyria, there's nothing of me
To give to the law or the fire or sea,
I gave your child the wish she desired above all,
And now I ask you to answer my call,
just send me home, and I'll ask God about what he saw,
what penance I must serve for saving
one sent off for misbehaving
and lightening the punishment, of a disgraced angel.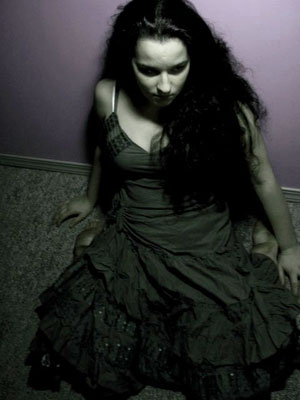 © Brianna D., Everson, WA