School Blues
November 11, 2009
¬¬¬¬¬¬Beep, beep, beep; Scarier than boo.
The clock just screamed 6:02.
Time for me to start my day,
Yet, all I want to do is lay.

Somehow I get dressed and end up in the car
Wishing I could go back to sleep, too bad schools not far.
5 minute warning bell rings as I walk into school.
The crowd at the door grows, like a big mule.

Period four already? What do you know!
Now I only have three more periods to go.
My eyes grow wide with anticipation
No longer tired, enough eagerness for the nation.

The day crawls on, slower than snails.
Thinking about the sun makes me pale.
Next thing I know the last bell rings.
You could practically hear the crowd sing.

Later that night, before I go to sleep,
I stall cause I dread to hear that beep.
Then I remember all the homework left missing
And I tell myself, tomorrow I'm gonna start listening.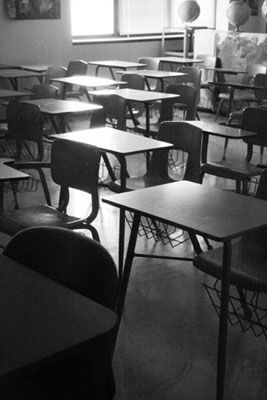 © Sean C., Princeton, IL