Pessimist
November 8, 2009
I keep pacing
...and pacing
...and pacing
My heart racing
No one's been here
No one's been here
For years
And years
And years

Confirming my fears
My fears
So dark and vague
Vague enough that I can't explain
I can't explain
Why I'm insane
I guess it might be that I'm forgotten
Forgotten
Cob web covered and rotten

As I pace
And pace and pace
A tear runs down my face
There's too much open space
Just me, all alone
With nothing but a phone
It rings
And rings

I hesitate to answer
Hoping not to spread my cancer
Its volume rises every other ring
A ring that brings much pain
But this call must be in vain
I hope they do refrain
Whom ever is calling
Now I'm balling

I keep stalling
Hoping that I could find a place to hide
From every night I cried
Out of pride, I couldn't tell you
I just didn't know what to do
But I cannot hide from the love that grew
In me for you
Which you may misconstrue

The only way to free myself
Is to answer the phone upon the shelf
Finally, I do
After the Hell I went through
What could I do?
I hesitate to admit
I hesitate to admit
Wondering, if he'll fit

Silence filled the air
The buzz of the phone was near impossible to bare
Playing with my hair
Thinking it unfair
That he didn't think to love me first,
that my heart felt like it would burst
My lips pursed
I begin to tell him how I feel

He listens
The moon outside glistens
I hear him sigh
And I wait for his reply
He asks me why
Why I feel this way
But I had nothing to say
I can't explain: Not even to this day

I said, "Say yes please!"
But he would not appease
He would not appease me
So I still was not free
From this misery
In fact worse off,
As worse as it could be
I dropped the phone
And resolved to be alone.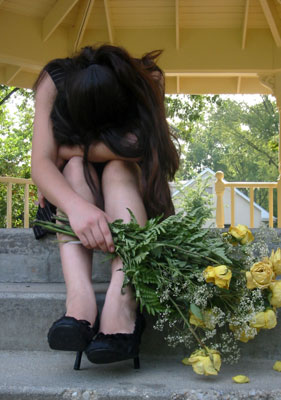 © Martha V., Morton Grove, IL