He Didn't Cry
October 31, 2009
He had no food to eat,
And no money to buy.
Gone were his days in
Which he could run with a neigh.
To his misery, he had no suffix to 'my'
But yet he didn't cry.

He had no live walking sticks, and those he
Nurtured without any hope, left him to die.
Tattered were his clothes, tattered was his walk,
Tattered was his life, tattered was the poor old guy!
Leading such life, no eye can stay dry,
But yet, 'he' didn't cry!

This boldness of him lied in his thoughts
Those were still able to fly.
He cooked verses to drink and stories to eat
And for each supper, he watched the world as a spy.
Sometimes he slept hungry, failed in his try,
But yet….he didn't cry!

He knocked every door in which lived his client
Presenting his stock, hoping them to buy
"Who needs all this today" some said rudely
Some said gently and he left hearing a deny.
On his condition no child of his felt shy
But yet… he didn't cry!

Apprised of creations, a man intending to buy
His collection, came to him, and gave him a price very high.
Shocked were his deniers and so were his children
And his talent, he did justify.
When people started him to dignify,
Pointing his hands towards the sky, poignantly, he did cry.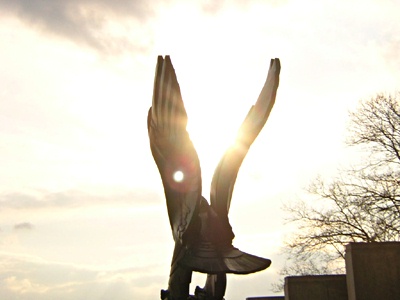 © Brittan S., Claremont, CA