One Yellow Rose
October 24, 2009
One yellow rose, presented just for her. A special "I'm so proud" gift from her proud father.

One yellow rose dried, became a bookmark. She used it from Harry Potter to a book on
Joan of Arc.

One yellow rose, a bloom on her corsage. Afterwards she flattened it to use in a collage.

One yellow rose was thrown up by her feet. She waved and kept on smiling as the float went
down the street.

One yellow rose she tucked behind her ear. She spun and watched her skirt flare in the reflection from the mirror.

One yellow rose reduced to just a cinder. A blessed flower burned at night in the dead of winter.

One yellow rose, ring hidden round the stem. She cried with happiness the night he asked her for her hand.

One yellow rose lay trampled on the ground. A single lost reminder of what never would be found.

One yellow rose arranged in her bouquet; she threw behind her back on the eve of her big day.

One yellow rose she bought to ease the pain. She never thought that this much hurt could cause her this much shame.

On yellow rose she was handed from a basket. That one single flower she laid gently on the casket.

One yellow rose from which came her middle name. She'd never again see a yellow rose the very same.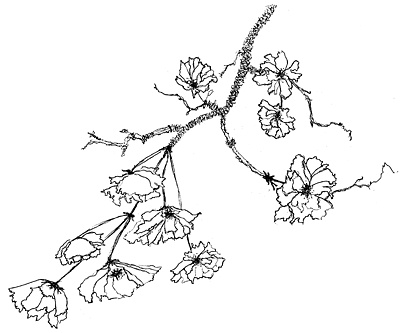 © Marybeth L., Hamilton, NY